Joe's Technical Reports Library
Joe's Technical Reports Library is a hand-picked collection of aerospace technical papers and documentation originally compiled by Joe Huwalt. It covers ranges as broad as aerodynamics, human factors, cost modeling, and rocket propulsion.

The original JTRL server has died, this is presented in its recovered form without additions or deletions. I have not fully explored the content and do not have complete knowledge of what is present.
Powered by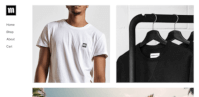 Create your own unique website with customizable templates.